Wenas Road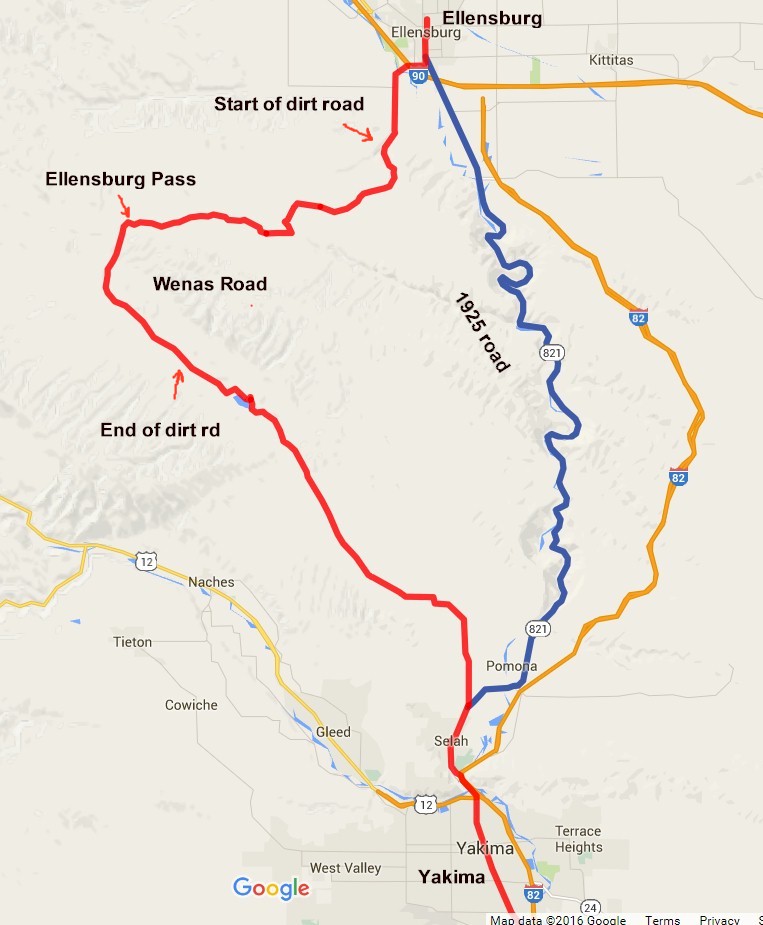 Traversing Wenas Road in a Prius
Exploring the Yellowstone Trail is a fun and enjoyable experience. Along the way there are plenty of places to refuel the car, spend the night or get a bite to eat. But there are some parts on the old trail where you should have a few days worth of food, a full tank of gas, and a four wheel drive vehicle; Wenas Road is one of them.
Before it became a part of the Yellowstone Trail in 1915, Wenas Road as it is known today was originally called the Shushuskin Road, named for an Upper Yakama man who lived at the north end. The road starts in Ellensburg, WA then south over Ellensburg Pass to Yakima, WA.
Shushuskin Road was built in the late 1870's as part of the Dalles, Oregon - Ellensburg, Washington Stage Road that carried people, mail and freight over the 150 mile route.
This route was arduous enough to cause one stagecoach driver to conclude, "There is no hell in the hereafter; it lies between The Dalles and Ellensburg.
In 1913 Shushuskin Road became a part of the Inland Empire Highway and improvements were made to make it passable for automobiles. It has been in continuous use ever since.
The road was a state highway for only 13 years, replaced by the opening of a shorter and flatter route through the Yakima River canyon in 1925. This was the same year that the Yellowstone Trail was changed to the northern route over Blewett Pass.
I have never driven the Wenas Road section of the Yellowstone Trail. Since it is almost 20 miles of dirt road and nothing but sagebrush for the entire drive, it wasn't something I was eager to take.
It is one of those bucket list drives that you have to do at least once in your lifetime. Today is that time. I thought what could happen? We can just turn around and go back if it gets bad. If we get stuck we could camp out until someone comes by and helps us.
Camping is fun isn't it? Don't think that would go over well with my wife. I didn't say a word to her of that possibility. If she knew that, she wouldn't have gotten in the car.
Morning came and we started off for Ellensburg. It was going to be a great day as it was nothing but sunny skies. It seemed kind of strange as it usually rains everyday in March.
After we left the house we saw a bald eagle having breakfast in the neighbor's yard. We have never seen an eagle around here before. It was a good sign. In the end I realized I interpreted the sign wrong. The eagle represented the road and his breakfast was us.
As we arrived in Ellensburg I was able to see Umtanum Ridge and Manastash Ridge in the distance and could see no snow on them. Wenas Rd crosses over Ellensburg Pass between these two ridges.
We had a lot of snow this year and I wasn't sure if it all had melted yet. This road is miles from anything and there isn't any way to find out if the road was even passable this time of year. This gave me relief knowing that snow wouldn't be a problem crossing over the summit.
The dirt road begins about 4 miles south of Ellensburg. When we first came upon it I let out a sigh of relief because the road was in excellent condition. It was damp so there was no dust and the road was very smooth.
After a few miles we began the climb up the hill to the plateau. Once on the plateau we could see for miles as there are no trees to block the view. The rolling hills and endless sagebrush make for a picturesque landscape. The only sign of civilization was an old abandoned farmhouse. This area is so desolate with little vegetation, so I can see why nobody lives out here.
Heading down the road we both looked at each other and said that this drive should be a piece of cake. I didn't hear the road laughing at us. We just continued on driving and enjoying the view.
After a few miles we came upon a sign that read, "Rough road for the next 9.4 miles". I took a gulp and looked at my wife and said, "Do you want to continue or turn around?" She told me she had no problem with us continuing. I was happy we were going to continue and I reassured her that it should be OK, really it should.
As we started up the hill toward the summit, I was thinking "this isn't so bad". The road had narrowed and it was beginning to get rough but otherwise it was good. It wasn't long before we made it to the summit of the pass. We figured we could make it the rest of the way.
Going downhill was a different story. When we started down we noticed that the road became even narrower and very rough. The road was still passable but I started to worry that we might get stuck.
A Toyota Prius Hybrid isn't the best off road vehicle. I didn't think it was going to be as bad as I made it out to be. It wasn't long before we came upon the first washout.
We stopped and got out to take a look. It looked like the stream had taken the road with it as it raged downhill during the snow melt. This part of the road follows a stream down a narrow gulch.
The good news is that it had been repaired. But the bad news is that the stream was still running over the road. Even more bad news is that the repair didn't look like they intended a Prius or any other non-4 wheel drive vehicle to use this road.
I convinced my wife that the road should be OK after this washout and if we make it through I will take her out to a nice dinner. She reluctantly agreed, so it was onward. We forded the stream without any problems.
Thankfully the stream was shallow. I had to make sure I didn't get the car in the deep ruts as we probably would get high centered. I was able to avoid getting stuck and we made it across.
As we started down the road again I noticed the road wasn't getting any better. I was starting to wonder if this trip was a good idea. I didn't let on to my wife what I was thinking. We just continued to slowly move forward.
It was about a mile and we came upon another washout. This one was as bad, or worse, than the last. My wife was by now was not a happy camper. She decided to get out and walk in front of the car to make sure I didn't get stuck.
She was walking faster than I could maneuver the ruts. Once we cleared that washout the road seemed to be improving. It wasn't long after that when we came to another stream to ford. It was just one obstacle after another. We crossed the stream with no problems. Our luck was due to the fact that there was no mud.
The road began to improve and we were starting to enjoy the drive again. Since we started on this journey we haven't seen another car on this road. We had driven for what seemed like hours while wondering when we would see civilization again. Finally we saw some homesteads. We should be home free.
Not so fast. About a mile or so further there was another washout. Our relief began to fade. Here we go again. This washout wasn't as bad as the last ones and we were able to navigate it without trouble. By now we started to wonder how much farther we had to go. We didn't know where we were or how far we'd come. All we were thinking now is when will this end?
It wasn't long after that when we finally hit pavement again. Boy, you should have seen the smiles on our faces.
We survived the Wenas Road.